Welcome to Male STD Warning Signs and Symptoms page. Sexually Transmitted diseases (more popularly called STDs) are diseases which are transmitted through the act of sexual intercourse.
There are many STDs in the world today. Some include- but are not limited to: HIV, Chlamydia, Genital Herpes, some forms of hepatitis, syphilis, gonorrhea etc.
In males, sexually transmitted diseases symptoms develop at different rates, for some men it takes a few days, while in others it might take weeks. And sometimes symptoms don't even manifest at all.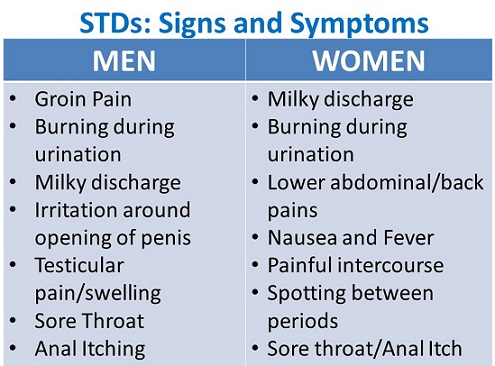 A case of no manifestation of symptoms should not be taken as being STD free. This is not always so, some men don't show symptoms even though they are infected.
The only way to be truly sure of being free of STD is to get tested on a regular basis most especially after unprotected sex.
Common Male STD Symptoms

In males, certain symptoms can suggest STD in male, the major symptoms which men exhibit are::
Bumps on the genitals and red spots on penis.
Sores or warts near the mouth, penis or anus.
Swelling or redness around the region of the penis.
Lose of weight
Sweating at nights
Loose stools
Aches
Fever
Jaundice (Yellowing of the skin and eyes)
Discomfort or itching in the testicles or Penis
Discharge (clear, white or yellow)
Pain during urination and ejaculation.
However there are some symptoms that rarely occur. These less common symptoms include
Sore throat
Testicular swelling and pain
Swelling of the urethra
Rectal pain,
Swelling in the epididymis
The Male STD Warning Signs
There are different types of Sexually transmitted diseases; you would need to consult a professional to know exactly which type of STD your symptoms refer to. The STD test incubation periods chart shows the testing window of various std diseases like Chlamydia, Hepatitis, Syphilis etc.
Some STDs include:
Genital herpes
Human papilloma virus/Genital warts
Hepatitis B
Chlamydia
Syphilis
Gonorrhea (Popularly referred to as "Clap")
What are the Men Symptoms For Hepatitis B
Vomiting and Nausea
Loss of appetite.
Very dark urine
Occasional sever Itching all over the body.
Muscle and Joint Pain and aches.
What are the Men Std Symptoms For Gonorrhea
Swollen testicles
A greenish white or yellow discharge from the Penis.
Swollen Testicles.
What are the  Male Std Symptoms For Herpes
Aching muscles all over the body.
Swollen lymph nodes in the groin
Sever loss of appetite.
Blisters on the lips, tongue, gums, and other parts of the body.
Blisters on the penis and testicles
How to Know if you have an STD or not?
To know if you are infected with any sexually transmitted disease you need to consult your doctor. He or she will examine and diagnose you t know if you are infected or not.
 How Does STDCheck.com help you?
STDcheck.com is created for the exclusive purpose of STD diagnoses. It has made getting tested for sexually transmitted diseases a much more easier process.
You can either order for being tested via phone or online. The test centers are open on every working day of the week. ( Monday to Friday)
How Does It Works?
Step 1: Order STD test.
Make an order and choose the location nearest to you.
Step 2: Visit the center.
There are over 4,500 centers nationwide, so finding a center close to you should be a piece of cake. There are no delays; you are in and out quickly
Step 3 Get results.
After you have been tested you will receive your test result which will be sent to you online account within two working days.
You should also check about: True Health Labs Reviews and Coupon
If you still have any doubts about Male STD warning signs then add your comments here.
Originally posted 2017-08-21 05:43:56.