STD Incubation Periods and Testing Windows Chart: You may have had a short lecture on sexually transmitted diseases back when you were going to school or have once come across a title telling you how to protect yourself from them, but it seems like there is insufficient information about their prevalence and potential health consequences.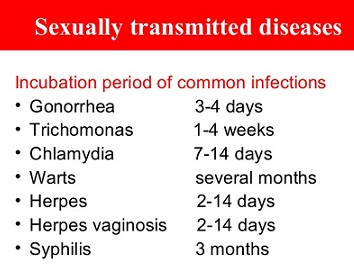 The STDs are diseases (infections) that can be passed to another person through sexual contact and include a handful of different diseases, with each of them being dangerous in their own ways and equally undesirable.
What is STD Testing Windows?
Getting tested on time may be of equal importance as having protected sex, which is why it is good to know the incubation periods of some STDs. Incubation period is basically the time elapsed between the moment you get exposed to an STD and the moment you start noticing the very first symptoms. In other words, incubation period provides you with the information about the development of the disease and tells you if it is the right time to get tested – depending on if the disease is showing any symptoms, the test will show either a false or a true result.
STD Incubation Periods Chart
As you can see below, different STDs have different incubation periods. To give you more complete information about them, there are also highest accuracy periods written in the brackets:
Chlamydia – 1-7 days (4 weeks)
Gonorrhea – 1-7 days (2-3 weeks)
Syphilis – 3-6 weeks (12 weeks)
Herpes Simplex (HSV) – 4-6 weeks (12-16 weeks)
HIV Antibody Test – 5-7 weeks (12 weeks)
HIV Early Detection Test – 1-2 weeks (3-4 weeks)
Hepatitis A – 2-4 weeks (5-7 weeks)
Testing window for Hepatitis B – 4-6 weeks (10-12 weeks)
Hepatitis C – 8-9 (10-12 weeks)
You can never get hurt if you've got plenty of information, which is why you'd better consult with your doctor to get more details about the STDs, their signs and symptoms and, more importantly, their incubation periods.
How to Get Tested at Home?
Once you've gotten to know the information you needed, you should think about getting tested as soon as possible. Both STDcheck.com and STDTestExpress.com are reliable online testing services and you'll make a good decision regardless of which one you decide to go with, though there are some slight differences between them.
One common thing is that both of them work on the same principle – you purchase a test kit on their websites and visit one of the approved labs to finish the testing procedure. The results are usually available in 1-3 business days and you'll be emailed whether you've been infected. There are also free doctor consultations if your results are positive to help you get the information you need and give you instructions on what to do next.
The STDcheck seems to offer their customers a bit more freedom when it comes to choosing the test kits they need and calculating the final amount, as opposed to the STDTestExpress, which doesn't have fixed prices – the amount you have to pay depends on the recommendations of their doctors.
If you still have any query about STD Incubation Periods, testing windows time and results then post your comment here.
Originally posted 2017-07-10 08:55:22.