Is STD Test Express Legit to buy kit? Is it reliable? Read my below review to solve your queries.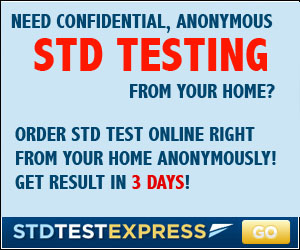 STD Test Express is a credible online service that provides confidential STD testing for several types of infections. It was launched back in 2009 and has enjoyed high popularity among the patients ever since, as more than 120,000 people went through their testing procedure in one of 4,000 labs located in the territory of the United States. They provides fast and confidential std checking at affordable price.
The STD Test Express Review
Below is my in-depth STDTestExpress Review that might lead you to final conclude about them. STD Test Express gives you the possibility to get tested for 8 different STDs: Chlamydia, Gonorrhea, Hepatitis B, Hepatitis C, Herpes 1&2, HIV, Syphilis and Trichomoniasis. As you can see, the most widespread STDs are covered by STD Test Express – though, if you were planning to get tested for Hepatitis A, you will have to seek another service. Regardless,STD Test Express boasts a wide selection of test kits and it is very likely that you'll find exactly what you were looking for.
If at one point you come across a problem or have any questions as far as the testing is concerned, you'll be able to seek help of a professional at no additional costs.
Sometimes it's crucial for us to find out our results as quickly as possible, and testing for STDs is definitely one of these moments. As for that, your results should be ready within 3 business days and delivered to you via your STDTestExpress account.
How Does It Work?
The testing process was developed to make it possible for you to get tested with ease and quickly get your results. Before heading over to one of their testing centers, you're required to purchase a test kit specifically made for the disease you're planning to get tested for and answer a couple of simple yet important questions referring to your overall health. You can purchase an std test kit on their website and you'll have to pay according to their doctor's recommendations.
Once you've successfully ordered your test kit from STD Test Express, visit the closest testing center – you do not have to make an appointment. Depending on the type of test you've chosen, you'll be required to provide either a blood or a urine sample. Your visit shouldn't last more than 30 minutes and professional doctors and nurses will help you go through the testing process without any difficulties.
Your results will be ready in 3 business days and you will be able to find them on your STD Test Express account. If your results are positive, further instructions will be given to you by the team of doctors.
How to Order an STD Test Kit on STD Test Express?
STD Test Express offers flexible pricing and payment options and you'll be able to pay using credit and debit, as well as HSA, FSA and prepaid cards. The moment you finish the medical questionnaire, you'll be offered to choose a preferable payment option and proceed to checkout.
STD Test Kits available on STDTestExpress.com don't carry fixed price tags so you can only get to know the final amount once you've chosen the package. To give you an idea how much you may have to spend, 8 Test Panel that includes test kits for all eight diseases costs somewhere around $250, whereas individual tests are priced between $79 and $149. You can use coupon code to get up to 30% discount here. Apart from that, Free shipping is also available for certain regions.
Please read my stdcheck review to compare both of these online store. Please don't buy Hiv test kit i.e OraQuick from CVS, Walmart and Walgreens. You can get it online privately and at huge discount.
Please share your STD Test Express Reviews, thoughts, coupon codes tip and inputs, if any. It will be helpful for other readers.
Originally posted 2017-06-11 05:14:41.